Window tint tools quality reusable tool
Get window tint tools for free. We offer a professional tool for working with window films, more than 100 items. The ability to choose, order or receive free of charge along with the ordered film.
High-quality window film installation tools from different manufacturers for working with films for various purposes.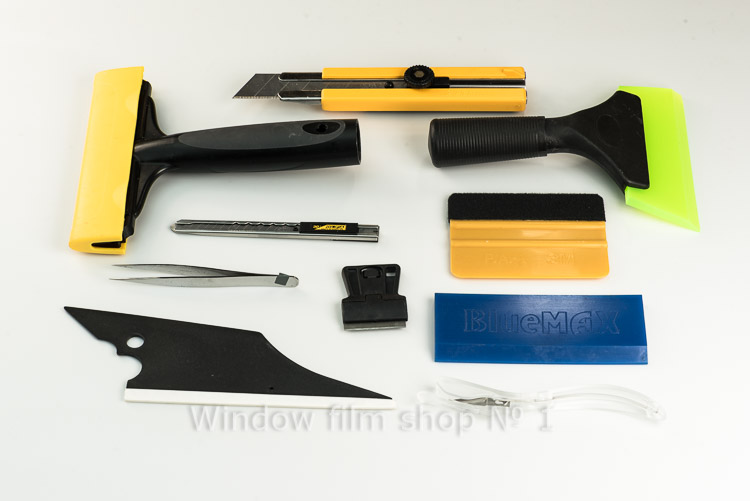 Window tinting tools for different films
Films for glass are quite a specific product and are fragile. All manufacturers recommend using special window tinting tools without fail.
Undeniable advantages
avoid scratches on the film
install film for windows without bubbles
significantly reduce the likelihood of getting creases on the film
high-quality installation ensures a long service life of the film
Choose the right glass tinting tool and use it within the guidelines.
The window tinting tool is made of special materials (soft and hard plastic, fluoroplastic, silicone) and reduces the chance of damaging and scratching the film. For quality work, it is necessary to maintain the tool in the appropriate condition. Protect work surfaces from damage.
All offered tools are designed for repeated use and glass tinting.
Tinted windows tools - get free
We provide our customers with window tint tools and mounting solution for installing the film purchased from us. We provide the opportunity to get the tool for free.
Depending on the size of the order, we add one of the options to each size
Small window tint tool kit - mounting squeegee and mounting solution
Large window tint tool kit - squeegee with handle, knife, small squeegee and mounting solution
More details about all possible options and list of available tint tools kits
Different categories of glass tinting tools
We regularly add and maintain 8 categories of tools for professional and independent work
window tint squeegee - different widths and degrees of hardness
scraperite - for film removal and surface preparation
knifes - different widths and different uses
window film cutter - for safe film cutting
auto window tint tools - a special tool for working with films for cars
We offer tools assembled in kits for the intended purpose
window tint tools kit
window tint squeegee
Our company is window film supplies and window tint accessories supplier for every customer.
Showing 1 to 6 of 6 (1 Pages)