Mirror Window Film
Dive into our diverse selection of mirror window film, available in silver, bronze, and the pure mirror effect. We proudly feature tinting with various levels of reflectivity and tinting from the lightest shades to the darkest, as well as films with a completely mirror-like, opaque appear.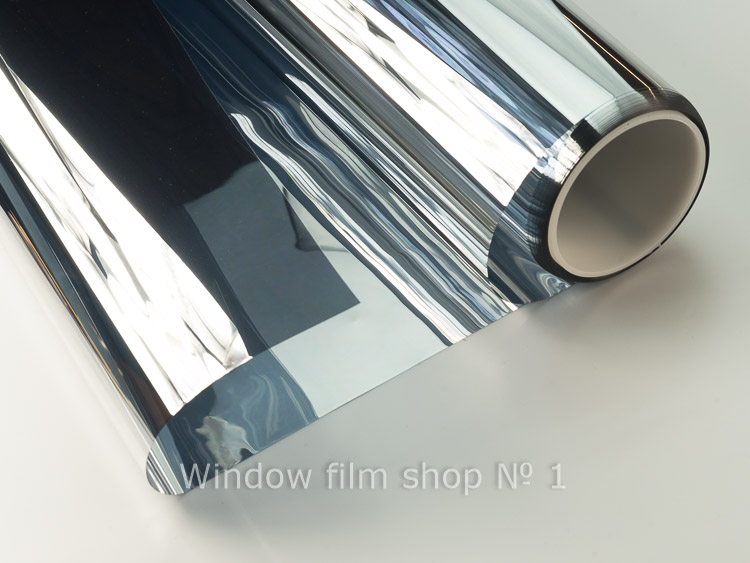 Our collection includes mirrored tint films suitable for both interior and exterior applications. Explore our comprehensive product descriptions, which range from the very dark at 10% to semi-reflective at 35%. Mirrored window film is our top-selling item online, highlighting our specialization in this domain.
What You Need to Know:
Mirror window film is a self-adhesive polyester sheet. Once applied to glass, it emanates a distinct mirrored effect. Here are some unique and invaluable features of this category:
Privacy: This film offers a one-way visibility feature. From the outside, the window appears mirrored, but from the inside, the view remains clear. Please note that this effect can change depending on the time of day.
Heat Reflection: Mirror window film reflects solar heat, which can potentially reduce energy costs and enhance indoor comfort.
UV Protection: It significantly limits the impact of UV rays, safeguarding interior items from sun-induced wear and tear.
Glare Reduction: Protects against strong sunlight and associated glare.
Mirrored window films are immensely popular for residential windows and also find applications in public and commercial buildings.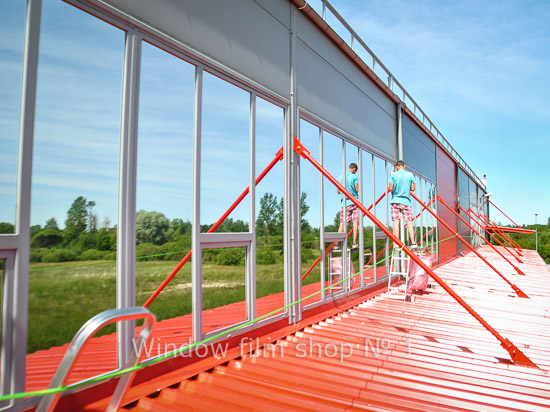 How Does Mirror Window Film Work?
The principle is based on physics! This tinting is designed to reflect sunlight and ensure privacy. The multilayered structure of the mirrored window film comprises:
The primary layer: Polyester with infused metallic molecules.
An adhesive transparent layer
A transparent protective liner (which should be removed before installation).
The product can have different thicknesses, but its most important property is reflectivity. Different grades may have different reflective intensities.
Warning! We specialize in products that provide a pure, mirror-like reflection, ensuring a high level of reflectivity and maximum effect.
Choosing the right product for your tasks:
Position: Determine whether you need the product for internal or external use. For more details see self adhesive mirror tint film
VLT: represents the percentage of light that the tint transmits, which allows you to distinguish dark from light. See the section VLT Percentage for more details..
Solar Heat Reflection Percentage: A higher value indicates a more effective film.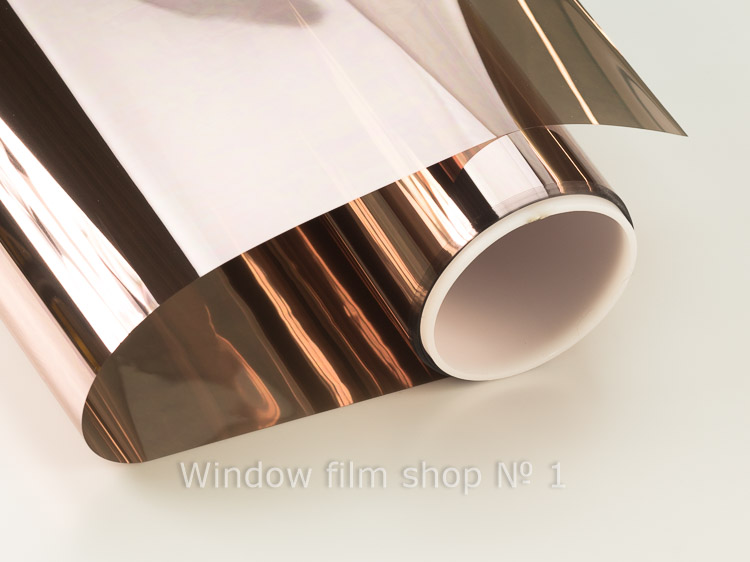 Shade and Hue: We provide colors like:
Silver mirrored film
Bronze mirrored window film
And the rarer gold mirrored film.
Discover the ideal mirrored window film tailored to your requirements and enhance the look and utility of your spaces!
Mirror Tint Film – Light, Standard, and Dark
Our range of mirror tint films can be broadly categorized based on their level of darkness. We offer:
10% VLT - Ultra Dark: This is our darkest mirror window tint film, providing a profound mirrored effect.
20-25% VLT - Standard: This category is notably popular, offering a balanced reflectiveness ideal for various applications.
30-35% VLT - Light or Semi-Mirrored: that yield a semi-reflective finish.
In simpler terms:
The darker the window mirror film, the more solar heat it reflects.
A darker tint provides a pronounced mirror effect, while lighter tints offer a semi-mirror finish.
Darker films ensure greater privacy, effectively shielding against prying eyes.
VLT 10% - Ultra Dark
Strata 10% : Due to its extreme darkness, this is infrequently used, best suited for commercial properties or spaces demanding maximal privacy at the expense of natural light.

20% - Standard
The standard mirrored film for windows (20% or 25% VLT) are the go-to choices for larger and medium-sized windows. They're commonly used for ground-floor windows and police interrogation rooms, where privacy is paramount.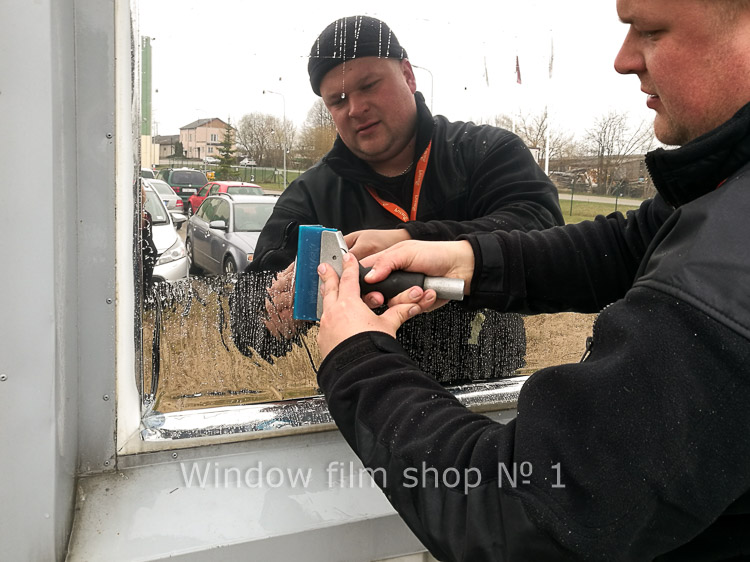 The 20% VLT mirror glass film is a versatile option, suitable for a plethora of scenarios.
30% or 35% - Light or Semi-Mirrored
Mirror film with a VLT of 30% or 35% offer a lighter tint, creating a semi-mirrored effect without significantly darkening the room.
Mirror Window Tint Film & One-Way Effect
The one-way visibility of mirror tinted window film is its defining feature, ensuring privacy by preventing outside view through windows. This is a widely adopted solution for enhancing privacy. However, it's crucial to note that this effect is contingent upon the direction and intensity of light on either side of the glass. Dive deeper into this in our 1-way mirror window film section.
At Your Service!
Our extensive collection of mirror tinting includes many options.
When you shop with us, you receive:
Custom Sizing: Order your mirror window film cut to precise measurements, accurate to 1/32 of an inch.
Complimentary Toolkit: Every order includes a free application tool and mounting concentrate.
Sample Piece: Each order comes with an additional similar fragment of the mirror window tint, aiding in understanding the correct installation process for primary pieces.
Choose from a variety of colors and shades tailored to your preferences and needs! Our mirror tint is easy to install, and the included toolkit and concentrate ensure a professional finish.
Mirror effect window film is a multifaceted product, designed to offer an array of benefits for your comfort. From sun protection and privacy enhancement to security and stylistic augmentation, our products cater to all.
Showing 1 to 10 of 10 (1 Pages)