High reflectivity window film - full description and features
High reflectivity window film is available for selection and ordering, with detailed descriptions and films available in various colors. Choose from bronze and silver high reflectivity films for a variety of windows.
High reflectivity window film is composed of highly metallized films that incorporate metal molecules in various forms. Typically, the film consists of multiple layers of metals, such as aluminum or silver, which possess excellent reflective properties.
High reflectivity window film -VLT 10% или VLT 20%
Typically, these films are quite dark, with a light transmittance ranging from 10% to 20%. They have a high level of efficiency and provide significant darkening effects. In fact, they offer the highest level of reflection among all reflective films and their counterparts.
The darker the film, the stronger the reflective effect. The darkest films have a Visible Light Transmission (VLT) of 10%. Films with a VLT of 20% will be lighter in comparison.
High reflectivity window film is a popular choice, especially silver reflective window film and similar types. These films have been in production for over 50 years, utilizing a proven technology and offering an affordable price.
Main advantages of high reflectivity film
Protection against solar heat
UV protection
Glare protection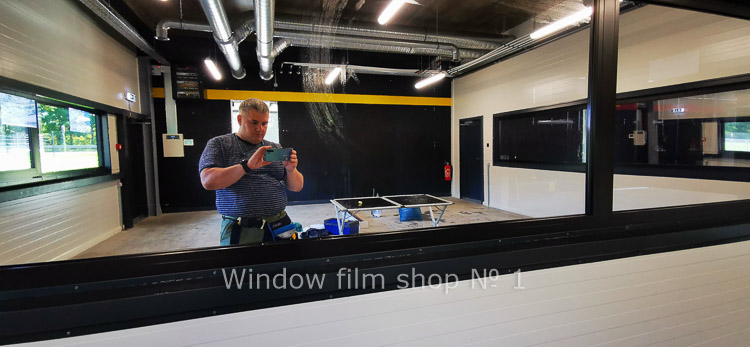 Additional Properties
Privacy: Some models of these films make windows non-permeable from the outside and have a one-way visibility effect.
One such solution is high reflectivity window film, which offers numerous benefits in terms of energy conservation and comfort. This article explores the concept of high reflectivity window film and its potential for enhancing energy efficiency.
It's important to differentiate and keep in mind that reflective film can be installed on the inside, or you can use exterior reflective window film for external installation.
Every customer can choose and order from us
Strata 10% - the film with the strongest reflection effect. And the darkest!
Strata 20% - standard reflective film in silver color
Strata Ex 20 - film for outdoor use
Bronze EX 20 - reflective film in bronze color.
The most comprehensive service for high reflectivity film
We offer a wide range of reflective film and the most complete service for our customers. Ability to order custom size window film and receive the necessary tools for window film installation free of charge.
Our window film shop collaborates with FedEx and provides delivery across the entire US territory and far beyond.
Showing 1 to 10 of 10 (1 Pages)