Adhesive Window Film
Adhesive window film is a self-adhesive window treatment designed to shield interiors from sunlight and augment both privacy and safety. Manufactured using an array of materials like polyester, vinyl, and PVC, these are available with multiple liner options. What sets self-adhesive window films apart? Their hassle-free installation. With a built-in adhesive backing, these promise a seamless and easy application process.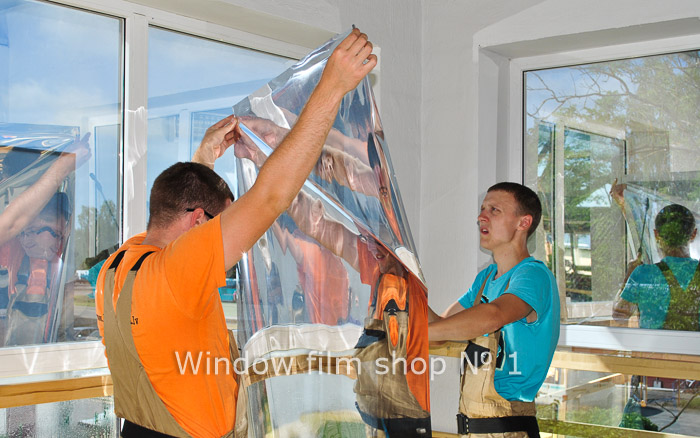 Note: Many often confuse these coatings with static window coverings and their installation techniques. For common mistakes regarding self-adhesive window films, please see the end of this article.
Benefits for the Customer of Windows Adhesive Film
Extensive range of choices
Over 90 variations of self-adhesive window films with diverse properties
Bonus: Installation concentrate for all types of window tinting
Bonus: Tool for fitting the self-adhesive window film
Complimentary cutting to the client's specified dimensions, accurate to 1/32 of an inch
We take pride in offering a comprehensive service! Each order comes with a complimentary bottle of installation concentrate and a tool to fit the tinting seamlessly, ensuring the perfect glass coating. Additionally, our range of self-adhesive window films provides an optimal blend of durability and aesthetic appeal for every customer.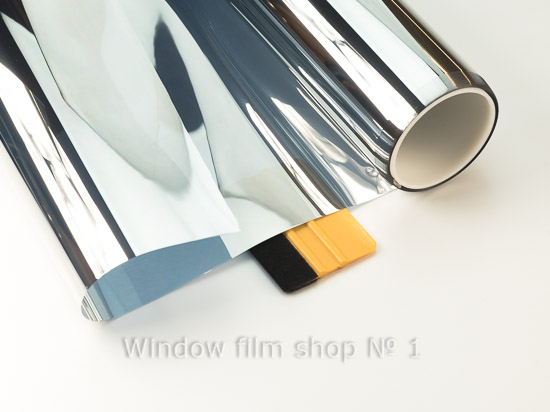 Understanding the Structure of Self-Adhesive Window Tint Film
The simple yet time-tested design of this type of window covering has demonstrated its advantages. At its core, adhesive window films are multi-layered and can be broken down into a few primary components:
The self-adhesive window film itself
A thin transparent layer
A removable liner, which can either be transparent or made of thick paper.
The adhesive layer of the tinting is protected by a liner. This liner safeguards the adhesive layer from drying out and facilitates the tinting's storage and transportation in a rolled form. The adhesive is applied in a thin layer, and even a light touch with dry fingers can leave a mark on it, which could then appear as an imprint under the tinting on the glass.
This design is typical for all types of window tinting and coatings.
CAUTION!!! Always remove the protective coating liner before applying the tinting to the glass surface! In reality, it's advisable to install adhesive window films with two people. One person holds the tint while the other carefully and gradually peels off the liner, applying the installation solution. Granted, professionals can do this solo, but they perform such tasks regularly!
Role of the Installation Solution
It's imperative to use an installation solution when setting up window adhesive film. This isn't an adhesive! The solution prevents the film from instantly sticking to the glass surface. This allows for an even spread across the glass without any air bubbles or creases.
If the tinting is applied without the installation solution, the film would immediately stick with air pockets, and this cannot be rectified later.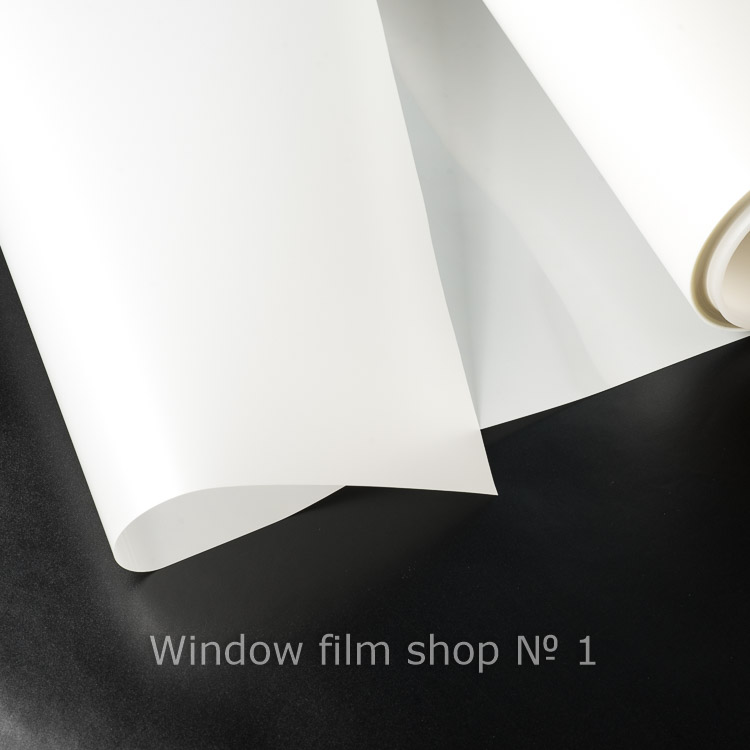 Our online store promises the best! Every order, especially those for self-adhesive window tint film, is accompanied by the installation solution and a free tool. This ensures a quick and hassle-free installation experience.
Key Categories of Self-Adhesive Window Tint Film
Our website showcases 6 primary categories of window films. The best choice? It's contingent on individual preferences and desired outcomes.
Frosted Self-Adhesive Window Film: Using advanced design, this material shields from intrusive views day and night.
Tinted Privacy Film: Comes in an assortment of effects and a range of colours for varied privacy needs.
Obscuring Glass Film: Guarantees a shielded view from the outside.
Aesthetic Decorative Tint: Boasts a variety of patterns to elevate visual appeal.
Reflective Glass Film: Offered in different degrees of reflectiveness.
Total Blackout tinting: Utterly non-transparent, blocking light from both directions.
We reiterate: the installation solution is NOT an adhesive. It's an essential component for ensuring the even application of the glass tint film without air bubbles or wrinkles.
Please note, all films from our range can be ordered in bespoke configurations. For more details, visit the custom size window film section.
Common Mistake to Avoid
A frequently encountered mistake involves attempting to apply the self-adhesive window tint film without removing the protective liner. In such scenarios, the coating adheres temporarily due to the installation solution, but not the adhesive. When the solution dries (typically in 1-2 days), the coating will detach from the glass.
Self-Adhesive Window Tint Film Removal Process
Indeed, these self-adhesive window tint films are engineered for straightforward removal, ensuring a residue-free surface post detachment. The ease of extracting the adhesive window film, especially the self-adhesive window tint film, is intricately linked to its longevity. Tints aged beyond a decade might exhibit brittleness, necessitating specialized tools and a tad more elbow grease for removal. This is contingent upon the degree of desiccation of the foundational material.
For More Extensive Information on Other Products
To delve deeper into the diverse types of window films, read our selection recommendations. We also offer a wide range of window film suppliers, delivering to locations far and wide.